Toys for Tots
Toys for Tots – 2019
The United States Marine Corps Reserves and Ward Black Law invite you to come out and support our 10th annual Toys for Tots kick-off!
The Toys for Tots drive kick-off event will once again be held at 208 West Wendover Avenue, Greensboro at the corner of West Wendover Avenue and Virginia Street in Greensboro, outside the Ward Black Law office. 
The public is invited to stop by anytime from 7a.m. to 6p.m., Friday, December 6 and donate new, unwrapped gifts for children ages from infant to 12-years-old.  Cash or checks payable to "Toys for Tots" are also greatly appreciated.  Toys will be distributed to needy children in the Triad area by the Marines before Christmas.
The event will be a fun-filled day for all who participate by donating a toy…
Marines in uniform will greet visitors and collect toys and monetary donations.  Come thank a Marine for serving our country and see the Humvee and 7-ton truck!
iHeart Radio will be here to keep the party going all day with music and talent from their local stations.
A Special Blend coffee and Krispy Kreme donuts will be available first thing!
Free Biscuitville biscuits will be offered in the morning.
Grill 4 God BBQ Chicken lunches sponsored by Sports Medicine & Joint Replacement of Greensboro that will be served with coleslaw, macaroni and cheese from Above and Beyond Catering, and cookies from A Sweet Success! Bakery.
Lambeth-Troxler Funeral Home will also be on site offering delicious sweet treats.
Coca-Cola will be onsite all day serving up your favorite soft drinks.
Great Clips stylist will be on site offering free haircuts for a minimum $5 Toys for Tots donation.  Don't have time for a haircut that day?  Coupons for a discounted cut will be given for each donation. 
Santa Claus will be here to take pictures from 3:00 – 5:00.
Come see us and bring a toy to help make Christmas brighter for children in the Triad who might otherwise not receive a gift this Christmas!
Toys for Tots Donations can be dropped off at Ward Black Law through Friday, December 13, 2019.  For directions to Ward Black Law click here.  
Toys for Tots – 2014
Ward Black Law and the U.S. Marine Corps Reserve sponsored the kickoff event for the firm's seventh annual "Toys For Tots" drive in the Greensboro, N.C., community on December 5th, 2014. This year's kickoff was a great success, with an estimated 900 toys donated and over $1,900 raised to help the 15,000 children in the Triad area who would not have received gifts this Christmas. Uniformed Marines greeted visitors all day, collecting toys and monetary donations while Chick-fil-a and Starbucks offered free biscuits and coffee throughout the morning. WTQR Radio's David Dean and Todd Nixon were on-site and broadcasted live, speaking with visitors and volunteers – including Ward Black Law Principal Owner, Janet Ward Black. Grill 4 God and Aramark were also on-site, preparing delicious chicken lunches while Coca-Cola donated free
drinks for the event. Great Clips stylists in Greensboro offered haircuts on-site and Kneaded Energy provided chair massages, both free with a Toys for Tots donation. Keystone Homes displayed a playhouse, complete with electricity and cabinetry that will be raffled off on December 15th— all proceeds from the raffle going to Toys for Tots. During the afternoon, Santa Claus made a special appearance and surprised the visiting kids who were involved in a multitude of activities including face-painting, games and balloon art with balloon artist Jim Mullins. Donations to "Toys For Tots" can still be made at
either the Ward Black Law offices or one of our designated donation sites until December 15th. Click here for directions to Ward Black Law and for more details. Special thanks to all of our contributors and volunteers who helped make the 2014 kickoff event one of our best yet!
Toys for Tots – 2010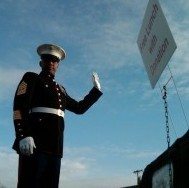 Operation Santa's Helper 2010 was a resounding success for the Marines and for Ward Black Law.  On Friday, December 3, the collection kickoff for Toys for Tots was held at the offices of Ward Black Law on Wendover Avenue in Greensboro.  During the day, over twelve boxes of new toys and $1500 was collected for the children of the Triad who would otherwise receive no Christmas presents. The Marines were on hand all day, greeting passers-by and accepting donations for the charity.  The employees of Ward Black Law joined in the festivities by handing out free food and beverages to the people who stopped by to donate toys or cash. For anyone bringing in a gift, there was free food and drink all day.  In the morning, Starbucks on New Garden Road contributed free coffee to go with a Chick Fil A biscuit or donut to anyone who came by.  Coca Cola provided free beverages all day.  At lunch time, Grill for God prepared delicious barbequed chicken to accompany the sides that Golden Corral provided to the cause. Donors brought in toys and gave them in honor of men and women serving in the military and in some cases in memory of individuals who had lost their lives serving for their country. People came by to shake the hands of the Marines and to thank them for their service.  It was a heart-warming day as kids and adults of all ages brought in donations. WTQR broadcast live from the Ward Black Law parking lot during the lunch hour.  Channel 14 Cable and Channel 12 news both covered the event.  Later in the day, Guilford the Grasshopper paid a visit as did some firemen from the Guilford County fire department who brought along one of their trucks for the kids to see. Special thanks also to A Bolder Image, Bravosigns, and Maxie B's made donations of printed materials, signs and promotional items for Operation Santa's Helper.  Channel 14 contributed free air time to promote the event and to cover the festivities.
Toys for Tots – 2009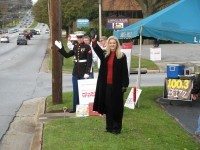 Ward Black Law along with their neighbor, Lambeth-Troxler Funeral and Cremation Service sponsored the U.S. Marine Corps Reserve's 2009 Toys for Tots campaign.  The was the second year for the two businesses to team up for the toy drive.  The event took place in the parking lot of both businesses, beginning at 7 a.m. and continuing until 5 p.m. on December 4.  There were give-aways and food available all day to those stopping by to make toy or monetary contributions. In all, nine boxes were filled to overflowing during the kick off.  Also appearances were made by Gunny Claus, Greensboro Firefighters and some of our wonderful US Marines.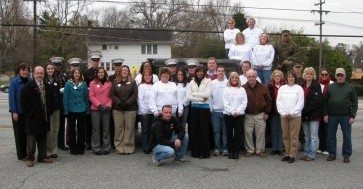 The event was part of a larger Toys for Tots drive, "Brother Bill's Toy Hill," a multi-weekend event promoted by WTQR radio personality Brother Bill. All toys collected at the Ward Black Law/Lambeth-Troxler drop location were taken to Wal-Mart in Kernersville on Saturday, Dec. 12, the culmination of Brother Bill's Toy Hill. Janet Ward Black, the attorneys and staff of WBL counted it an honor to participate alongside the Marines to assist with collecting the donations for this event.  "Toys for Tots is really a double blessing," said Janet Ward Black, Greensboro attorney and former president of the North Carolina Bar Association. "Donors are not only reaching out to needy families in our community, but they're also supporting the men and women in our military. Isn't that a cool way to celebrate Christmas?" Toys for Tots hopes to bring smiles to the faces of some 40,000 to 50,000 Triad families this year and WBL was honored to participate in such a worthy project that will make a tremendous impact in the community. (12/04/2009)