Ask an Attorney Day 2009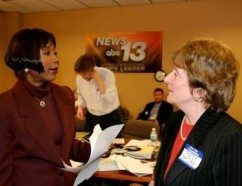 Written By: Russell Rawlings, NCBA
For all of its intricate details and logistical challenges, the success of the North Carolina Bar Association's second annual Statewide Service Day is not that difficult to measure.
 
The phones ring and the lawyers answer. It's as simple as that.
 
On Friday, March 6, the phones were ringing long before the 7 a.m. starting time arrived for what clearly has become the signature public service project of the NCBA Foundation's 4ALL initiative.
 
The phones rang non-stop throughout the day to call centers in Asheville, Charlotte, Greensboro, Raleigh and Wilmington. The only way to stop the phones from ringing was to disconnect them, which volunteers did when 7 p.m. arrived and the final calls were completed.
Once again, the lawyers of North Carolina were standing by waiting to answer. Supported by legal assistants, law students and members of the N.C. Bar Center staff, volunteer attorneys provided free legal information throughout the day in response to a vast array of questions.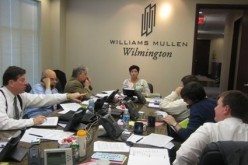 By all accounts, the second annual Statewide Service Day was an enormous success. Some 400 volunteers fielded calls from nearly 6,500 citizens. The only complaint to speak of was a good one – people could not get through because the lines were busy with lawyers who were already taking calls!
 
"It was a glorious day," said NCBA President Charles Becton. "Hundreds of NCBA volunteer lawyers helped thousands of citizens throughout North Carolina."
 
Becton and NCBA Executive Director Allan Head began their day at the Raleigh call center before proceeding to Greensboro, where they were joined by Janet Ward Black, immediate past-president of the NCBA under whose leadership the Statewide Service Day ask-a-lawyer event was initiated last year.
 
"The other thing that was significant from my perspective was that five minutes before 7 in Raleigh," Becton added, "20 phones starting ringing. It sounded like 20-part harmony, like the most beautiful words you will ever hear, like words from the 'Sound of Music.'"