Ask an Attorney Day 2008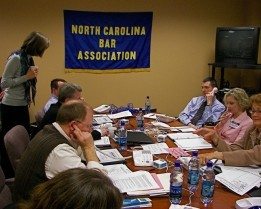 Written By: Russell Rawlings, NCBA
 "It was a great day to be a lawyer."
The sentiment, attributed to Caryn McNeill, co-chair of the 4ALL Task Force, was echoed by scores of North Carolina lawyers who participated in Friday's statewide Public Service Day.
It was, in a word, overwhelming: an overwhelming response from the public met by an equally overwhelming response from the members of the North Carolina Bar Association.
The numbers, while impressive, only tell part of the story. More than 700 lawyers volunteered to provide free legal information at eight call centers statewide. More than 500 attorneys were seated, filling every available shift at every call center throughout the expansive 12-hour workday.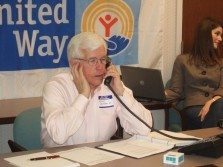 Approximately 7,000 calls were fielded; hundreds more went unanswered as the phones rang vigorously in anticipation of the 7 a.m. starting time and long after the volunteers logged off at 7 p.m.
The response tested the organizational efforts of the 4ALL Task Force and its Participate Working Group at every turn. Given that nothing of this magnitude had ever been attempted by members of the NCBA, if indeed by any bar group in the United States, the outcome was truly amazing.
"It was great for the profession," said NCBA Executive Director Allan Head. "It was great for the North Carolina Bar Association."
And it was definitely a team effort. From the moment NCBA President Janet Ward Black established the 4ALL campaign to expand the provision of civil legal aid to the poor in North Carolina as the focal point of this bar year, the public service day has been in the works.
"It was an amazing day!" Black stated. "Hundreds of NCBA members helped thousands of North Carolinians in just one day. Callers were so thankful for the assistance our volunteer lawyers provided.  We are extremely grateful to our volunteers, the NCBA staff and Legal Aid of North Carolina for pulling off this unprecedented event."